ABOUT STP PERFORMANCE COATING
MILITARY ∙ MEDICAL ∙ AEROSPACE ∙ ELECTRONICS ∙ SEMICONDUCTOR ∙ CONSTRUCTION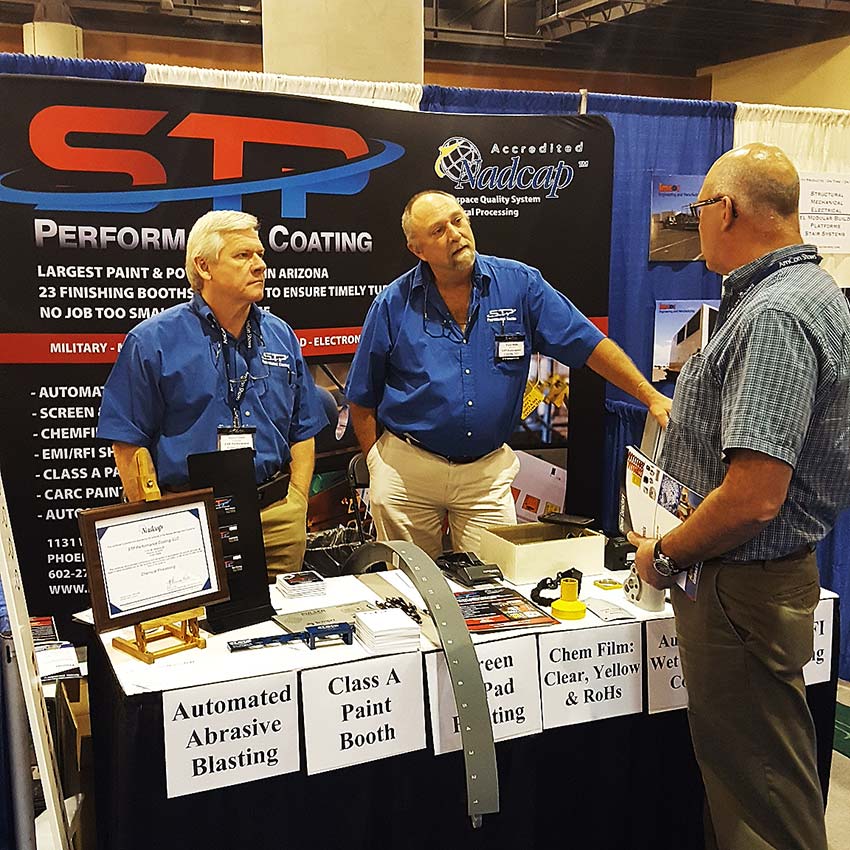 Since 1983, our team has been pleasing customers with our cleaning, pretreatment, primer, wet paint and powdercoat finishing. We specialize in complex maskings and screen printing. We have a diverse portfolio of service commodities– Military, Commercial, Medical, Semi-conductor, and Aerospace. We are pleased with our reputation in the industry as a rapid turnaround, quality processor with superior customer service. We are proud to be the premier military CARC processor in the USA, processing everyday.
Even as we operate with a small company feel, we have undergone continued growth adding a large conveyor line with cleaning and curing capabilities. We have added a new state-of-the-art environmental spray booth. We can manage large quantity jobs, as well as large capacity with our 2 shifts and large space. We support customers from start-up companies to those well known as Raytheon, Lockheed, Northrop Grumman, Collins, General Dynamics, Viasat, Intuitive Surgical, Benchmark, Ultra Clean Technology (UCT), Applied Materials, Orthoscan, Inc., and BAE to name a few.
OUR FINISHED PRODUCTS HAVE BEEN SENT TO SUCH PLACES AS RUSSIA, CANADA, CHINA, JAPAN, MEXICO AND IRAQ. FROM PRIVATE INDIVIDUALS TO GOVERNMENT AGENCIES, OUR WORK HAS EARNED US A REPUTATION THAT WE ARE GREATLY PROUD OF. CONTACT US TODAY TO LEARN MORE!
THE LARGEST INDUSTRIAL FINISHING SUPPLIER IN ARIZONA
We are continually working within ISO and AS9001 standards. With our CARC compliant processes, and NADCAP certification, we are looking forward to rapidly growing into the largest industrial finishing supplier in Arizona. On premise we operate from a 60,000 square foot facility, offering thirteen (13) spray booth, four (4) cure ovens. We have an onsite facility for our media blasting machines. Our Class "A" finishing is completed by a dedicated area and oven. Our 5- process conveyer system allows us to process both powder and liquid. Our masking and screen printing departs are superior in product and workmanship. We offer first article and ongoing inspection during the process of our customer parts. We use state of the art equipment, with continual certification of operating and maintenance. We have some of the largest chemical processing tanks in the valley.
Our pad printing machine has enabled us to get clear, precise prints on nearly any shape and size and is a great addition to our standard screen printing. Our screen printing machine allows us to print curved surfaces up to 360 degrees. With our continual education and process and procedural upgrades, we strive to keep up with current products and processes as the industry advances.
OUR GOAL IS TO ADD VALUE INTO EVERY PROJECT WE DO WHILE DELIVERING PROFESSIONAL EXPERTISE, EXCEPTIONAL CUSTOMERS SERVICE AND QUALITY PRODUCTS.