MILITARY ∙ MEDICAL ∙ AEROSPACE ∙ ELECTRONICS ∙ SEMICONDUCTOR ∙ CONSTRUCTION
TYPES OF POWDER COATING IN PHOENIX, AZ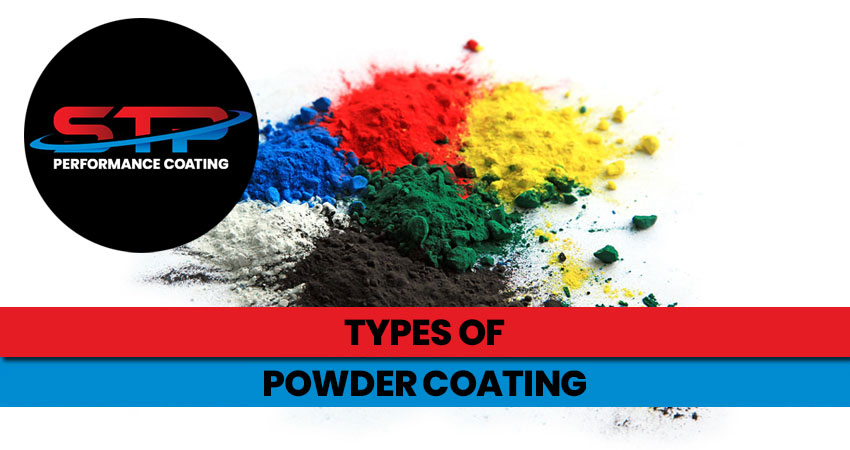 There are a lot of types of powder coating used in many industries, each with their own features and applications including epoxies, polyesters, super durable polyesters, epoxy-polyester hybrids, fluoropolymers, and urethanes.
EPOXIES
Epoxies are long-lasting, offer excellent hardness and has possibly the best resistance to corrosion and chemical of all powders available. Another perk of this type of powder is its ease of use and its wide range of cure times. Epoxies adhere to metals exceptionally well, with different pretreatments of the metal providing superb adhesion. The disadvantage of epoxy powders is that they don't weather well. Outdoor exposure can cause them to chalk and fade in the sun. They will often begin to degrade on the surface within a few months. This makes epoxies better suited to indoor applications. As they do not handle the sun very well, their use as a pre-coat underneath another paint type enhances their strengths while masking their weaknesses.
POLYESTERS
Polyesters are probably the most frequently used powders and offers excellent value for the money. The two most commonly used types of polyester powder are TGIC (tri glycidyl isocyanurate) and TGIC-free. Both TGIC and TGIC-free polyesters offer excellent mechanical resistance, including great flexibility, impact resistance, and are resistant to chemicals. Polyesters will also provide exceptional overbake resistance to yellowing, which makes them easy to use and Standard Polyesters offers 1-3 years of good UV resistance. A significant advantage of standard polyesters is the vast color choices, gloss levels and special effects they are available in. Polyesters have substantial properties and are usually the first choice for a lot of applications.
SUPER DURABLE POLYESTERS
Super Durable Polyesters are becoming the champion of polyester powders. As the name indicates, these powders offer superior durability in comparison with standard polyester. They are designed to retain their color and gloss to within 5-10 years more than the standard polyester. Not only is their color and gloss more durable, but it also offers better resistance to humidity and corrosion.
These Super Durables have become immensely popular over the last few years as their improved capabilities and incredible value for the money. This has made them desirable for interior applications where enhanced fade resistance is needed and all nature of outdoor applications.
EPOXY-POLYESTER HYBRIDS
Epoxies and polyesters are often combined to form hybrids. These hybrids stay closely related to pure epoxies but offer outstanding weather deterioration properties. These hybrids can be mixed in several ratios to enhance the features of either the epoxy or polyester. The polyester will increase the overbake resistance when compared with straight epoxy. The combining of the resins also makes them more inexpensive than a pure epoxy. The polyester does decrease the corrosion and chemical resistance of the epoxies but doesn't add any outdoor weatherability. Hybrids are primarily used on items that require enhanced cosmetic appeal in conjunction with excellent functionality. Hybrids can be used in some of the same applications that epoxies are used, but are usually found on indoor appliances and other household items like furniture, shelving, interior lighting, and power tools. Other indoor appliances like stoves, washers, and dryers are a customary application for hybrids.
FLUOROPOLYMERS
Fluoropolymers are usually used in architectural markets due to their remarkable weathering properties and first-class color and gloss retention. Their corrosion resistance and outstanding weatherability make them extraordinarily popular for exterior architectural applications. The two most general types of Fluoropolymers found in powder coating are FEVE and PVDF. PVDF Fluoropolymers will always require a primer underneath them – whether it is liquid or powder and are much more tough to bond when producing metallic powders. FEVE resins are favored within the powder community for their superior one coat capabilities and amazing exterior performance. FEVE based Fluoropolymer metallics can also be bonded so when they are applied, the metallic flake is more evenly dispersed throughout the powder for a more uniform appearance.
URETHANES
Urethanes are chemically comparable to polyesters, with a variation in curing agents. Urethanes offer a considerably smooth finish and excellent exterior durability as well as superior chemical and corrosion resistance which makes them perfect for applications like fuel tanks. Other standard applications include agricultural equipment, air conditioners, car rims, and doorknobs; because fingerprints are not as visible. One downside of urethane paint is that at greater mil thicknesses it can start to outgas and become weak. You may also detect an odor during application and cure; smoke can also be produced in the oven during cure. Urethanes are also typically more expensive than other types of powders due to the cost of the resin.
STP Performance Coating provides the best powder coating services throughout the Phoenix, Arizona area in including Glendale, Tempe, Scottsdale, Laveen and more…